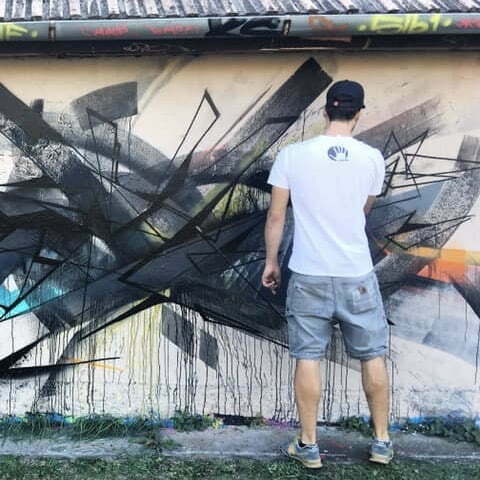 Interview with graffiti artist Abra
Abra
colors the domestic walls with drawings of outstanding form. Over the years, his style has slowly transformed from simpler letters and now he creates almost only abstract works. What motivates him the most is that there are no limits. With each painting, he tries to project his particular mood onto the wall.
How long have you been painting?
Around 2000, I started getting to know him on paper with one of my classmates, whose brother is my current teammate.. He said that he saw the sketches on his brother's desk, and how about we try this form of drawing. Around 2005-6, my good friend OZOE and I founded UQN, with whom I really started blowing... since then I think I've also been painting.
Where did your stage name come from?
For a long time I searched/ideated for a name that could identify with my "style" and be a Hungarian word! I only had the idea, and finally a good friend of mine found the name while flipping through a dictionary. As I remember, something like this..
How did this style develop and what would you call it?
I think my "style" was not formed, but rebooted.. when I was a child, I adopted a non-figurative world of forms from my father (who also liked to draw/paint). I tried to copy or draw similar to what he did. When I got acquainted with graffiti, I left this direction and concentrated on letters. Later, as my own little world in this genre began to take shape, the abstract forms that had been ingrained in me in my childhood began to surface again, and then the letters completely disappeared from my drawings. and what should I call it?! maybe for bit porn.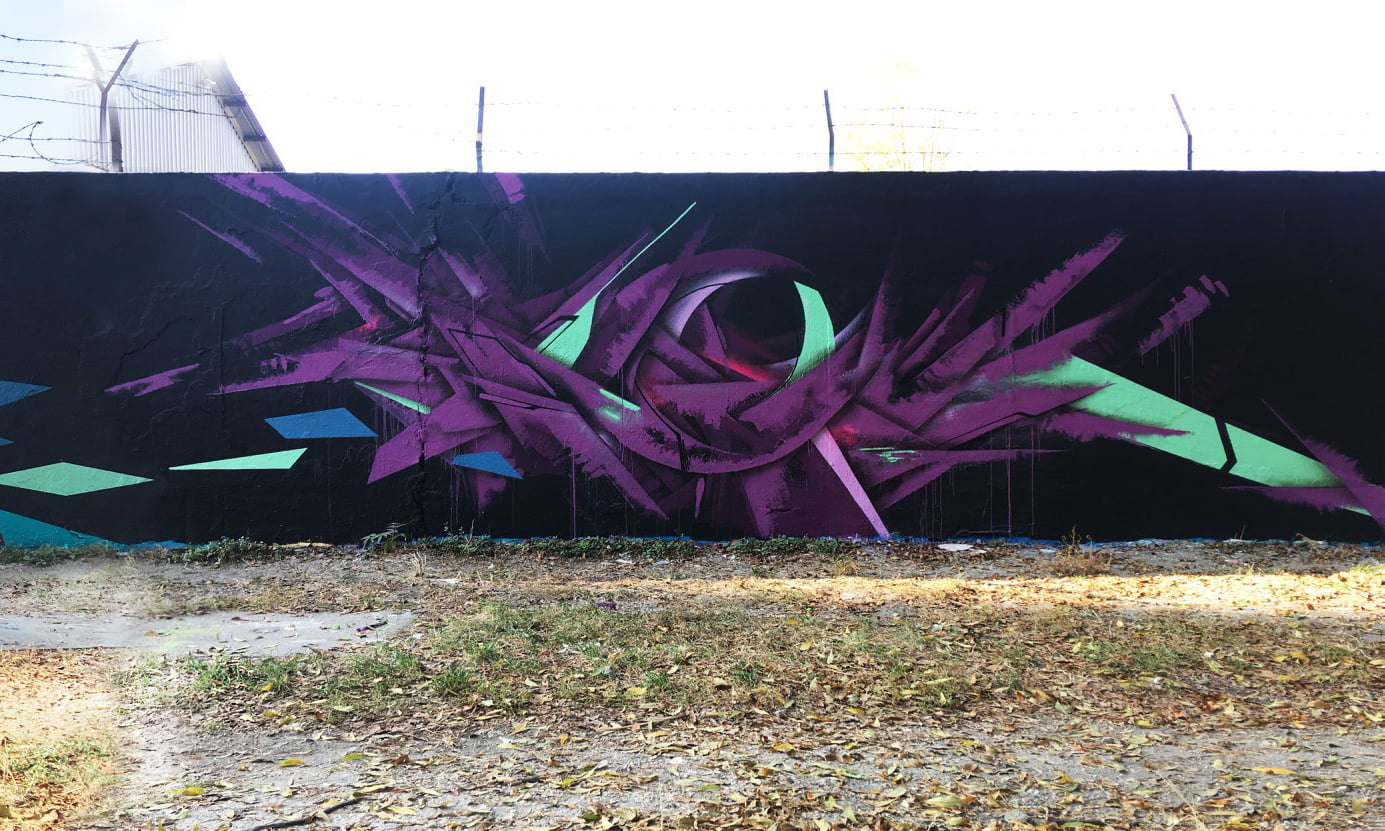 Who or what inspires you most to create?
Is there a graffiti group you are a member of?
Yes there is. Since 2013, I have been polluting the air in the company of OHK.
Illegal or legal painting?
I was addicted to adrenaline when I was young. I loved climbing onto rooftops through the ledges of bedroom windows or kneeling motionless in a bush. When I needed more elaborate drawings, I realized that you can go back to a wall for several days, and I got stuck with the latter... but to this day, when I see a rooftop again, I want to go home with new ends covered with chrome, like a small child under the blanket where no one and nothing can hurt him.
How do you choose the locations?
If I can, I aim for abandoned ruined places. Unfortunately, most of the time, laziness and lack of time win... the familiar walls that everyone knows remain...
Do you have a favorite part of making a drawing?
The sketch! I really like it when only the wispy tangled sketch is still on top...unfortunately, this method has worn out in my drawings.
How satisfied are you with the finished works?
I feel like my hands haven't caught up with my brain yet... I like some of my drawings, but I don't remember being satisfied with any of them...
Do you start blowing him spontaneously or with preconceived plans?
My big shortcoming is that I don't usually draw on a sheet of paper... Sometimes I manage to get myself to do it, but it just ends up that I scribble a few sheets together... somehow this has worn me out... and with my own things I don't really like to do the same thing twice, be it on a sheet, canvas or wall . So I always leave the end result up to my mood.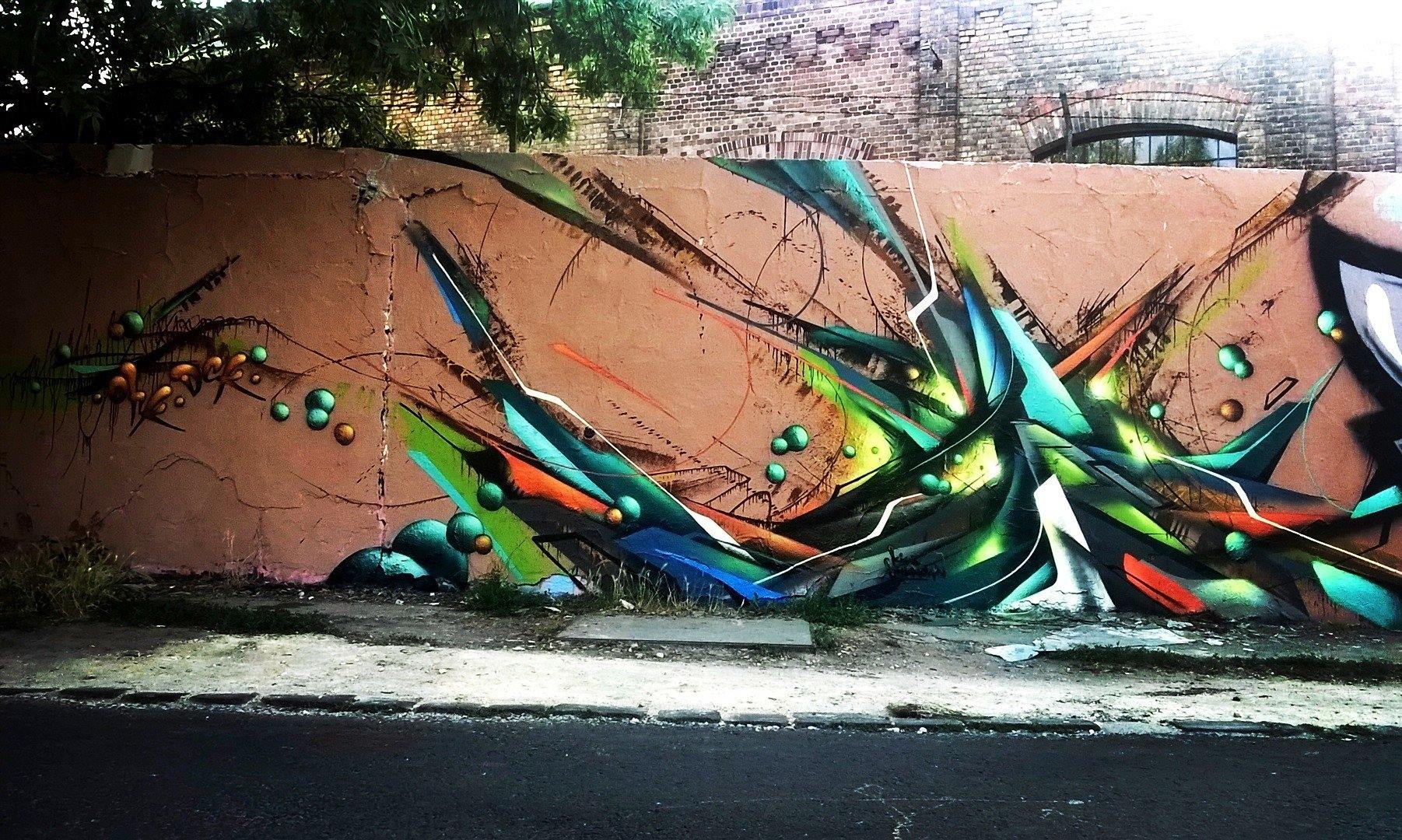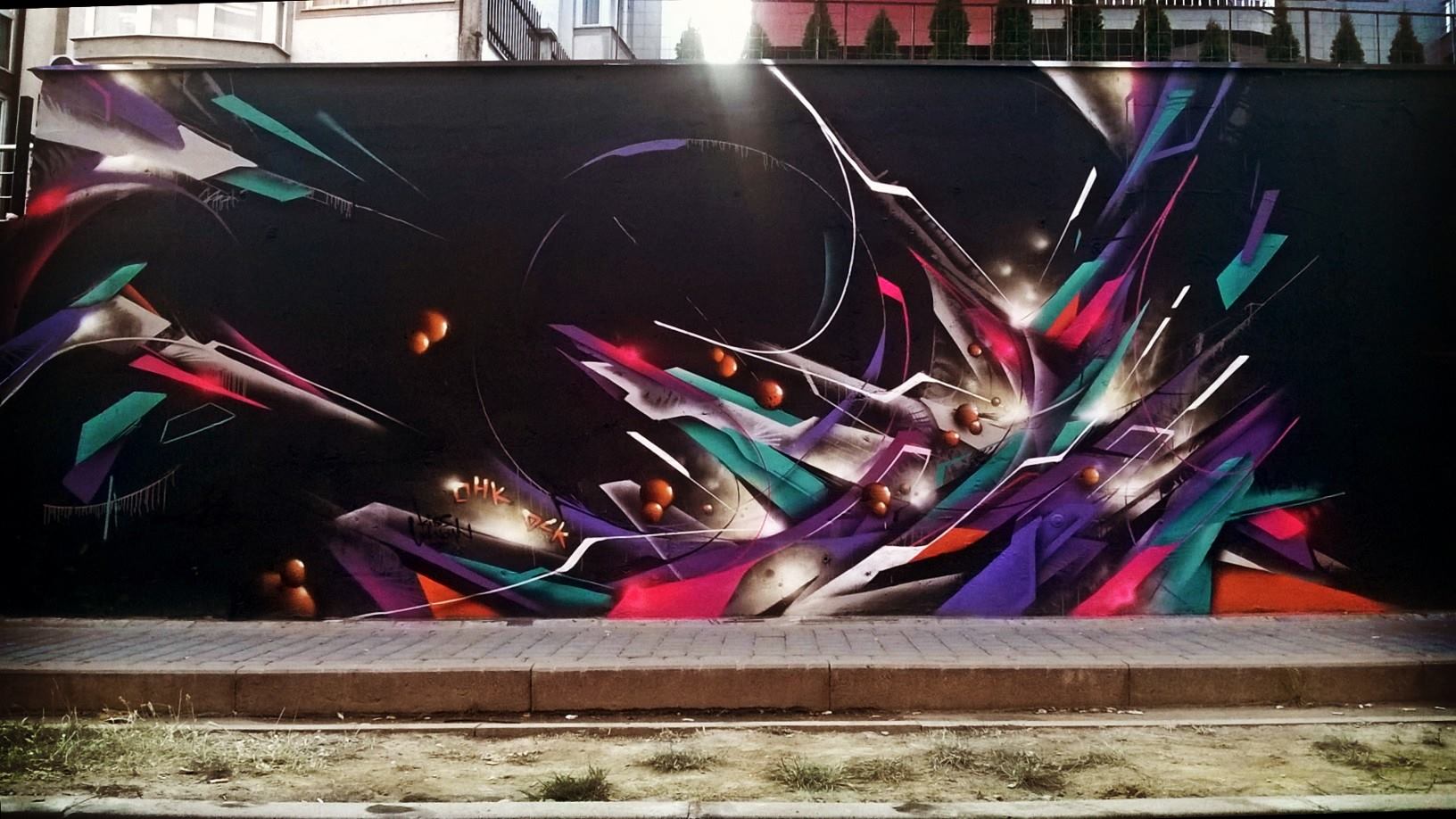 Over the years, have you had any confrontations with the authorities?
What inspired you in the past and what motivates you now? 
I used to be conservative when it came to drawing. Dimension, inline, outline, etc. I didn't pay attention to anything else but the graffiti. Nowadays, a chipped piece of a rock is the stain left by the coffee cup on the tablecloth. Good music or a bottle of tequila. What motivates me is that there are no limits.
Do you see graffiti as a hobby or a livelihood?
I am lucky that my work is not far from my hobby. Although in the past I had one order where they asked for 100% of the picture, excluding the colors. I thought it couldn't be simpler than that. I was wrong, as all my drawings are spontaneous realizations, so I was terribly frustrated that I was limited by the colors... If I remember correctly, I struggled for 2-3 days with a surface of 5-6 square meters... I transfer a few elements from one to the other, but I try to treat them separately.
There are quite expensive financial costs for creating a single drawing. How can you finance these? 
Nowadays, I make most of my drawings using dispersions and pastes, so I can get away with one painting at a very friendly price.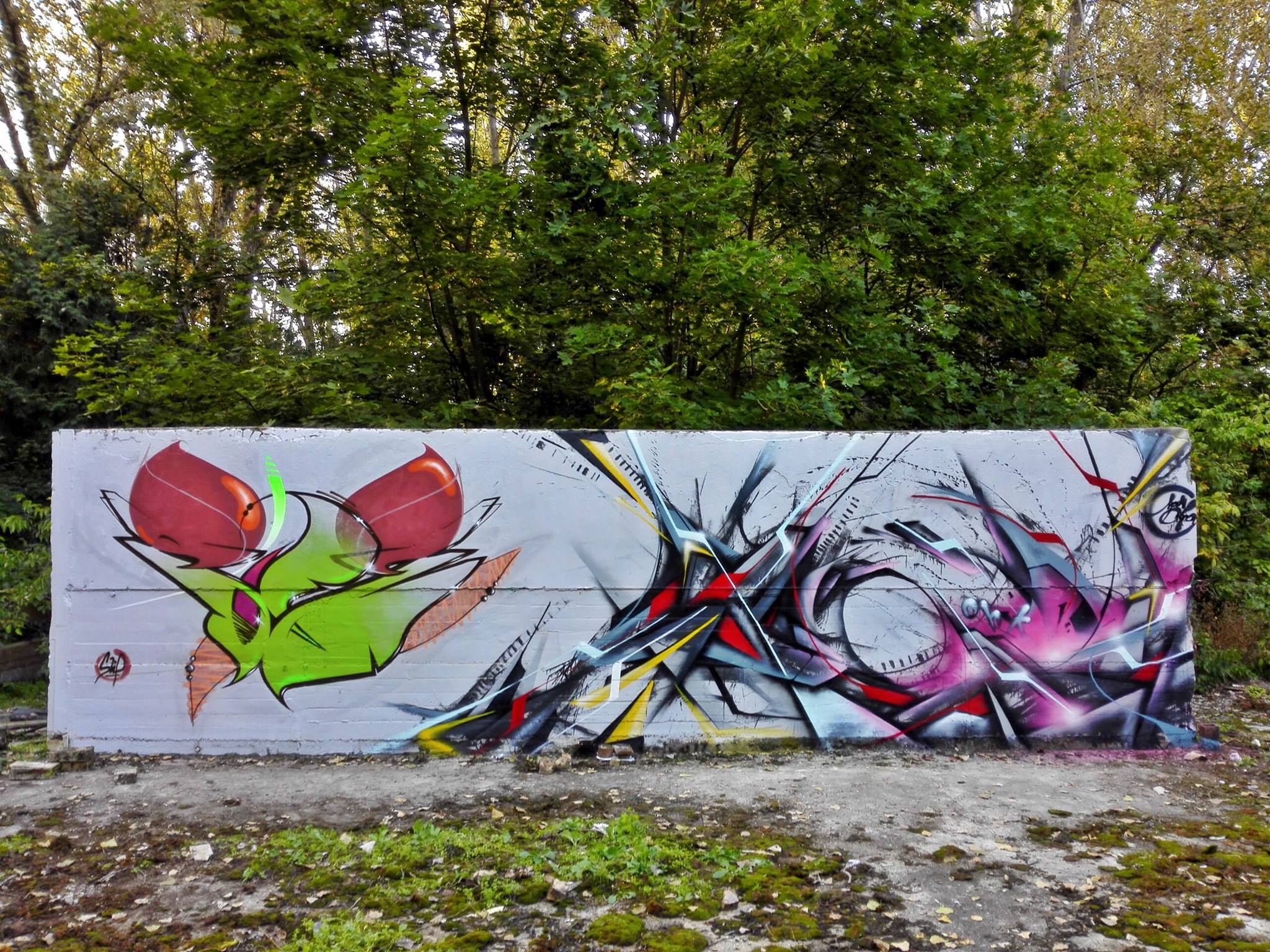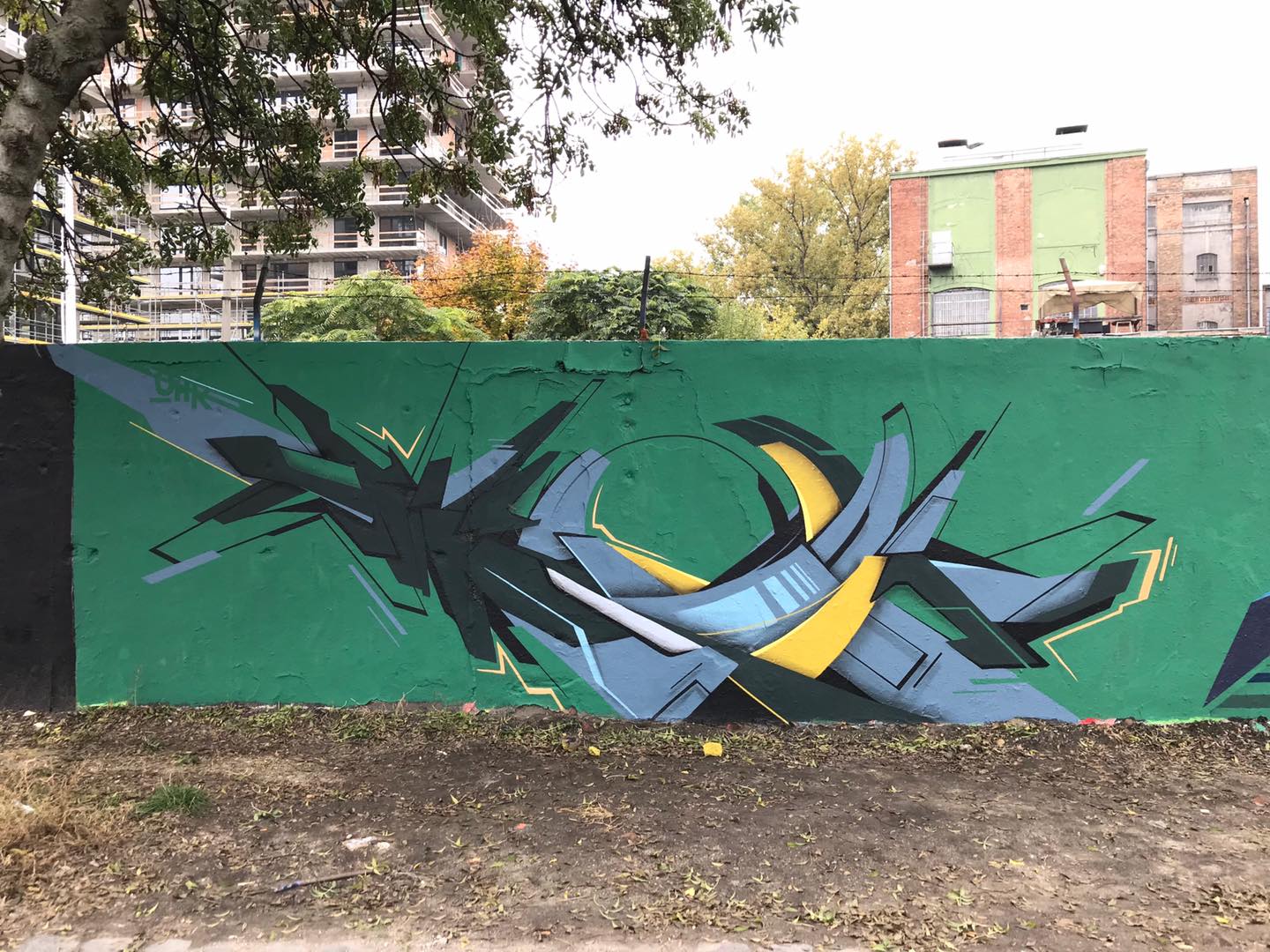 How often do you participate in graffiti events?
I really like to paint alone, but maybe even more in company. Therefore, if I can and the organizers of the event think so, I will participate wherever I can. 
How much do you follow the works of local artists?
I'd rather say I'm paying attention to them.
Was there a part of your life that made you feel like giving up?
Of course there were low points…but then I took solace in painting. 
What would have happened if you didn't grab a can at the time? What would you do?
I couldn't answer that, at that time this flight was popular, the stations of which were unknown. I chose the train instead of the bus, which brought me this way.
What do you think about graffiti?
A lover who doesn't ask why you came now? and how long are you staying?  
How do you see the current situation of the subculture here in Hungary?
-"…everyone is a model, everyone is perfect…"
Maybe my first night sale in general. With two of my classmates, with whom I started. We made 5 drawings in the evening. When we ran out of paint, we sat on a ping-pong table and waited for the sunrise. With a blue belt bag with a waterworks logo packed with felt on my waist, I felt like a real graffiti artist, but I have already traveled 600km by train for a single drawing, because we decided not to paint in this country... Everything has/had its charm. 
What has this subculture given you over the years?
I met fantastic people, lots of adventures, travel, freezing.
What would you say to those who are just getting to know the genre?
Who would you like to thank? 
To the cafeteria lady working in the office building on the corner, who delivers my coffee in advance every morning. My dear friends: SLIP, who has been guiding my way for many years. HOEK taught me a lot of small tricks professionally and SAINE, who is a round pretzel in my eyes, tells me if I do something wrong... my three teachers who, if it weren't for them, I could ONLY be a scientist or president...