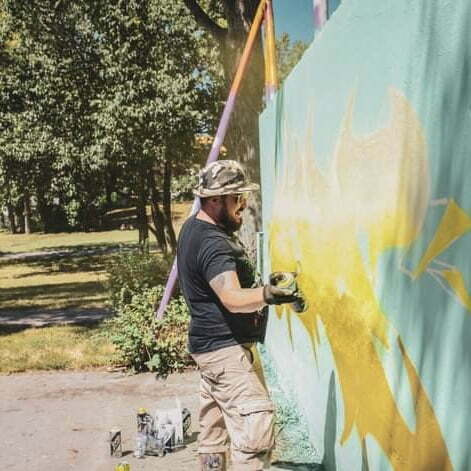 An honest and direct account from one of the founders of the RCG crew from the beginning to the present day. With almost 20 years of experience in the profession, seasoned with some guidelines that are worth taking.
How long have you been painting?
My first encounter with Graffiti was in 1993 when I was 12 years old. Even then, I was drawing inscriptions and characters in my notebook at school, but I didn't even know what I was doing, or that it was even called graffiti. Once I was traveling on the bus in my hometown and while passing through Szent István Street, I saw a colorfully painted wall from the bus. It was written that KRIK and PRAK were the two names below each other. A UFO-like character with a hat was painted right next to it. I remember jumping off the bus and immediately going back to see it up close. I was completely mesmerized by the sight of it. The effect you can read in comics reminded me of sounds like bow or crash and I could list more. They were very simple block letters just like you see in the comics. As it turned out later, the two men were also from Törökbálinti. After I got to know them, I somehow absorbed the whole culture. From 1993 to 1996 I was just getting to know graffiti.
I hung out with them a lot back then. They took me with them at night to watch while they were painting, which was useful because I saw how they did it. I did a lot of drawing at home and only painted throw ups. Prak was the driving force behind local writing, he was very active at the time. I learned everything about the styles from him, from KRIK and from a guy named BONE, as it turned out that besides Prak and Krik, there are others who paint graffiti in the area. Then somehow we became more and more. Then in 1996, a serious loss occurred in our lives, our friend PRAK continued his graffiti in the afterlife. In his honor, I made my first color drawing in 97, which was an OSP inscription. PRAK's first team was KRIKKEL, which included some Budapest figures. After his death, we started repainting the group in his memory. Meaning Old School Posse. From here I also count how long I have been painting. from 97
Where did the stage name come from?
This is a complicated story if only because I had several names. My first name was Desir in the 90s, which came from a movie where one of the actors was named Desiré. I left out the letter é and it already sounded like a graffiti name. Later, I also had names like Jeax, Smak or Peris, but not many drawings were made of them. Around 2005, I came across the term Teil, which means (Part) in German. I thought this could be good, this is my part, this is who I am. He kind of gave himself up. Most people know me as Teil, that's what I was most active with. Also, it changed to Teyl81 recently. The y was replaced by the i because there is another person with this name abroad. But recently I picked up Desir again out of nostalgia. Of course, this name is taken, but I don't care because our style is different. Sometimes I combine the two names. TEYL x DESIR. It's like collaborating with myself. That's how he became Mr.T.Desir. On my 40th birthday, such jubilee crap popped out of my head 😀 I immediately did it for the fila, and I also did a similar combination in Pécs. I don't want to leave either name, I stick to both.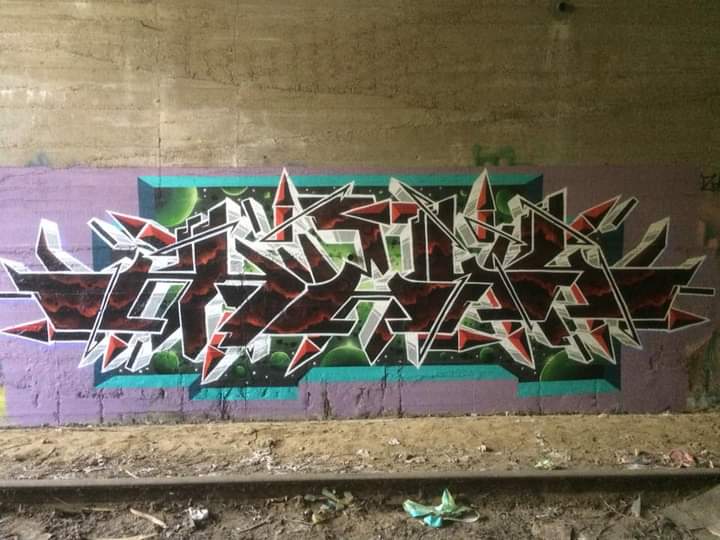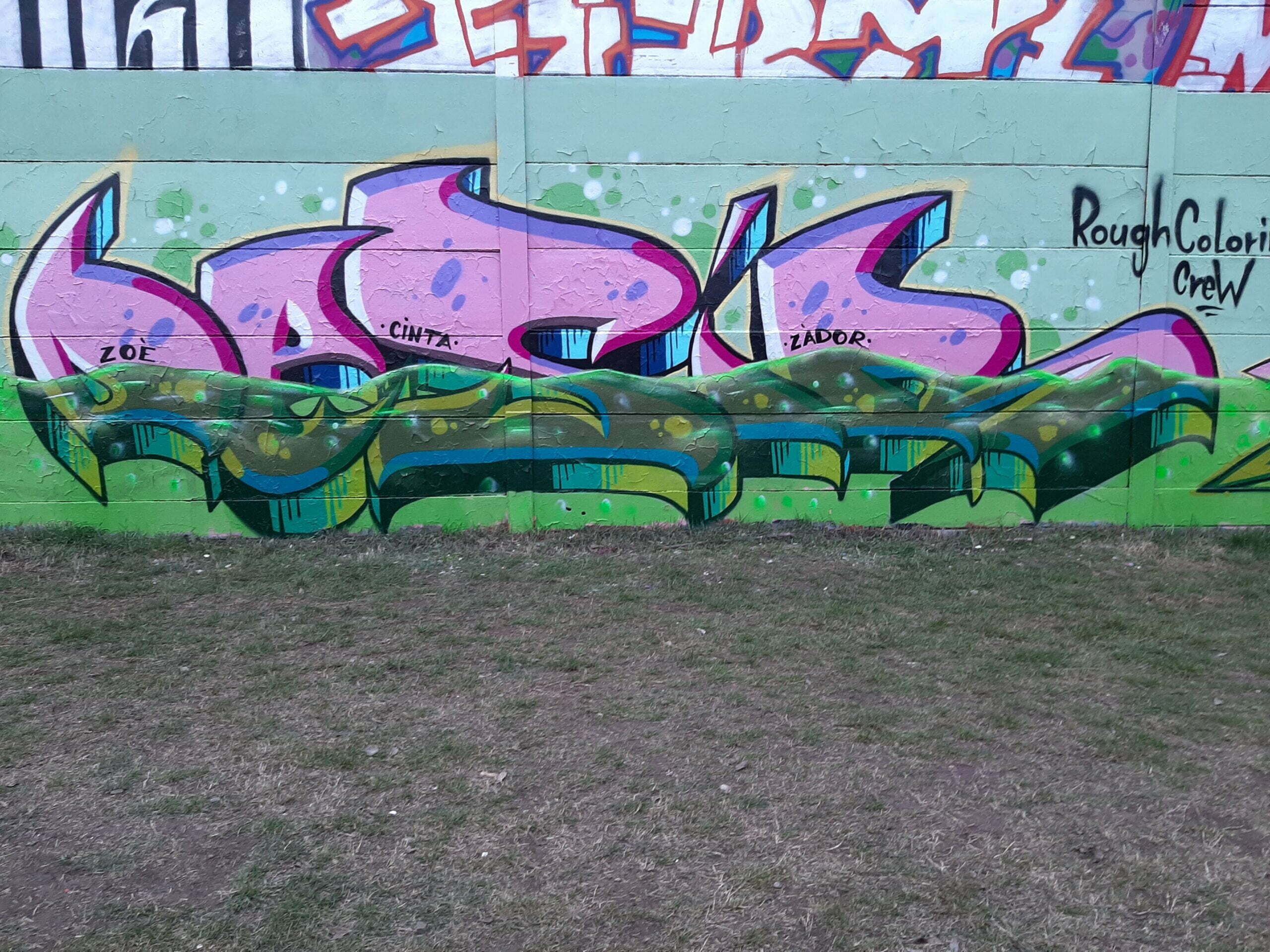 How did this style develop and what would you call it?
I don't feel like I have my own style. Also, I like a lot of things and I like to try myself in many things. I don't have the same drawings. They all look a little different. For a while I was very motivated by the classic New York Wild Style. But lately I like to paint a little simpler letters. I prefer to build on the effects, as well as make characters from time to time. I drew my own English alphabet, I often take it out and build on it from the world of form. My style is somewhere between new school and old school. It has no specific name.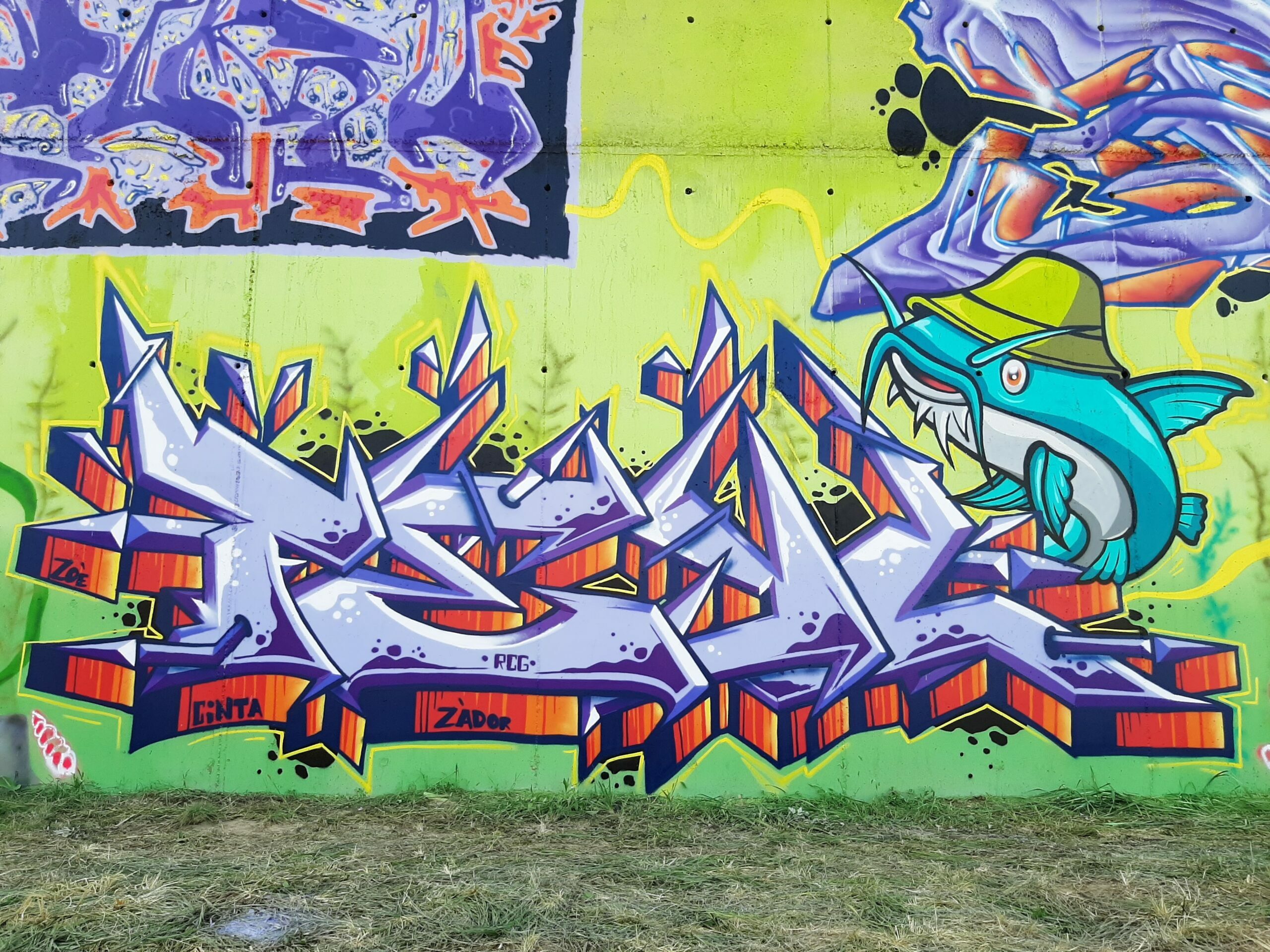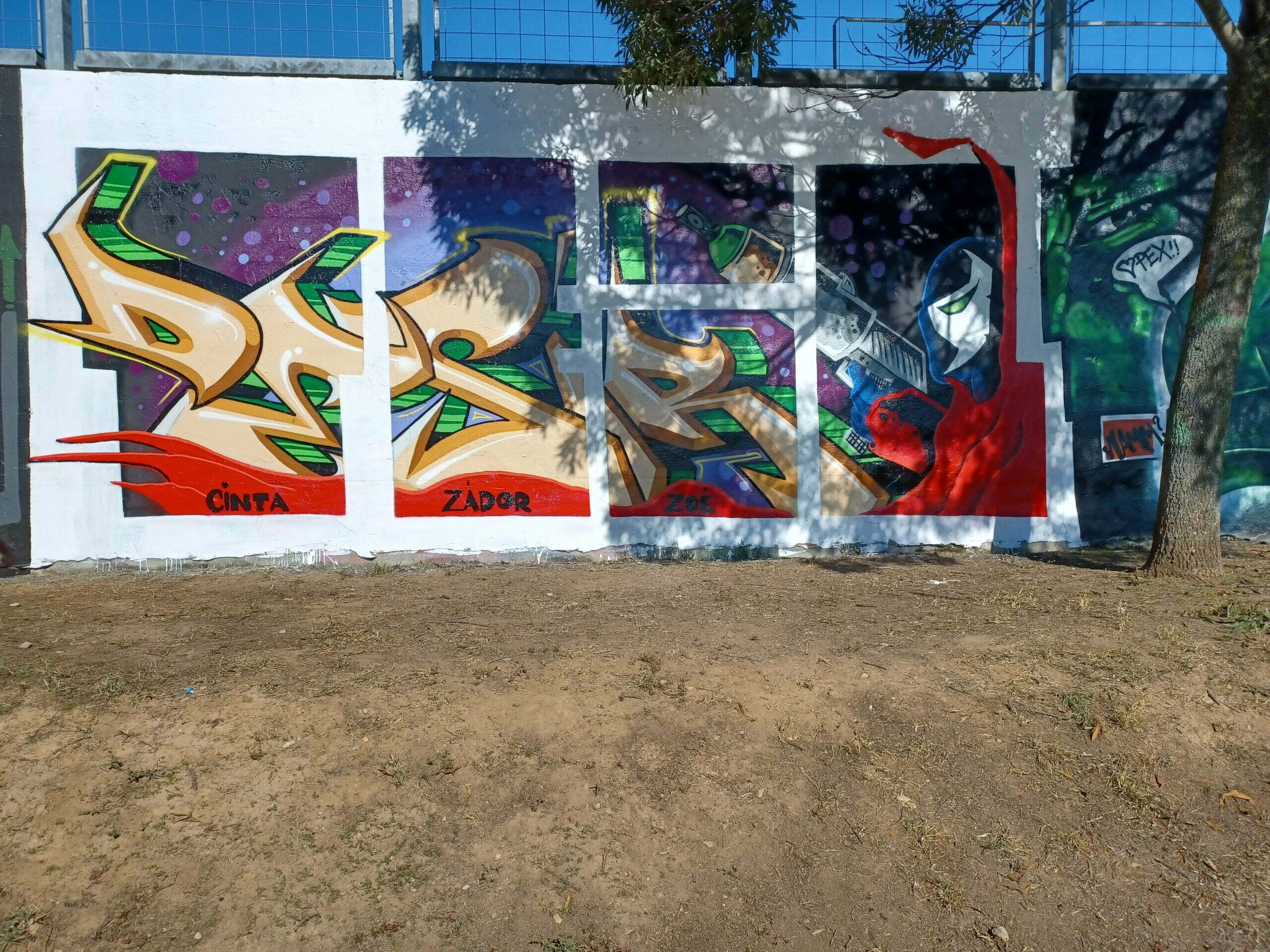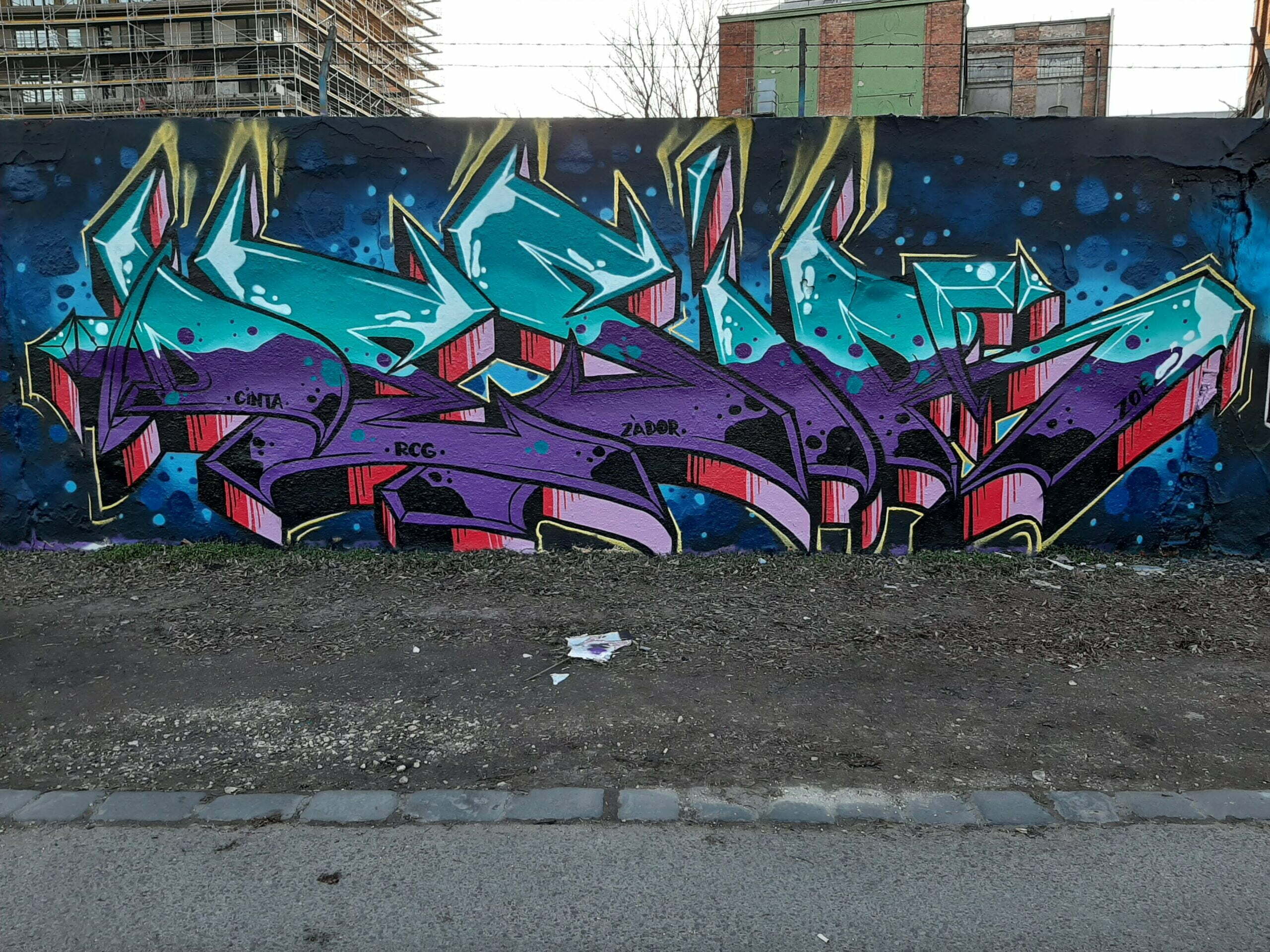 Who or what inspires you most to create?
In the beginning, I was very inspired by PRAK and BONE. Their drawings, which were already considered high-quality in the nineties. At that time, there were others who painted striking styles in our small town, especially in the capital. I was greatly influenced by the drawings of the PNC crew from the Budapest styles. But mostly I tried to get inspiration from foreign magazines. That's how I got hold of Subway Art magazine, which was full of New York subway drawings from the 80s. The Style Wars video was also connected to this, which was very motivating for me. Bene was Seen, who is now a true badass rocker legend. I love the old man, he paints with a cigar in his mouth and he has spent his whole life doing this and it shows how he enjoys it. The graffiti grandfather, for me he is the real king. But the German line also came in very well from there, Can2 and Bates were a big flash. On the run magazine and Backspin were full of foreign stuff, I loved them. Then came the domestic events, the atmosphere of which I still love to this day. This is where I decided to do this for the rest of my life.
Is there a graffiti group you are a member of?
Of course there is. The RoughColorinG crew is my second family. I am a founding member with Peru and I am proud of the whole bagass. We work so damn well together. But sometimes I even upload the OSP for old times' sake.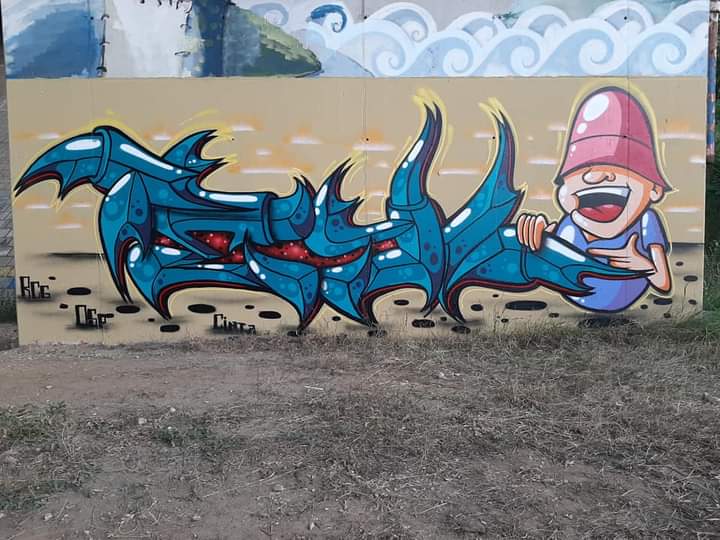 Illegal or legal painting?
At the beginning, I was very moved by illegal painting, I have a lot of experience. We were like some animals that got out of the zoo every now and then at night. And now I'm laughing a lot because the memories come flooding back. Right now, I'm mostly interested in painting legal and quality drawings. Creation and precision are what I need, not adrenaline addiction. I'd be lying if I said I didn't care about that part anymore. Sometimes I spot one or two spots where I can imagine myself.  
Have you had any confrontations with the authorities over the years?
It happened at the beginning, but fortunately I always got out of it well. I wouldn't call it a serious confrontation. I tried to be careful maradni.
What inspired you in the past and what still motivates you now?
From the first minute, the feeling of life it provides and the stories related to it. By the way, it turns me off completely, that's when I'm really myself. As I said before, we tried to get foreign magazines and learn from them how it works abroad. I was able to take it out and look at it every day for months. Even after weeks I was able to discover something new in it. Today, anyone's work can be viewed in another part of the world through various platforms on the Internet. I came from the days where you had to travel a lot to see other people's works. Also, I have loved and collected comic books since childhood. Spawn is my favorite. I love to draw from them. I love getting lost in the details. In truth, anything can motivate or inspire, even good music. Or some objects, or any shape or color composition that I can incorporate into a drawing.  
Do you see graffiti as a hobby or a livelihood?
There was a time when I worked to order. It just didn't work out. Somehow I felt like I was just raping myself with it. You know, when you're trying to make a living doing what you love doing the most, it's really good. But if I think of it as work and I am obliged, I can no longer do it with the same love as when I create selfishly only for myself. So for me it's more of a hobby, but the best wording for it is lifestyle. This is how I maintain my artistic freedom. I don't have to think about what X and Y would like to see in their cafe as decoration. Maybe one day I'll delve into decor painting again, but right now it's not an option.
There are quite expensive financial costs for creating a single drawing. How can you finance these? Sponsor?
I have a job from which I have enough money to be able to finance the painting myself. In the past, I really wanted to be sponsored, but I realized that if I wanted to be sponsored, I still needed a minimum of development. I already feel good in letters. But I still have a shortcoming. That is why I am currently making study drawings, developing myself as much as my time allows. Maybe one day I'll get to sponsorship. I'd also like to paint bomb characters, I'm not that good at it yet.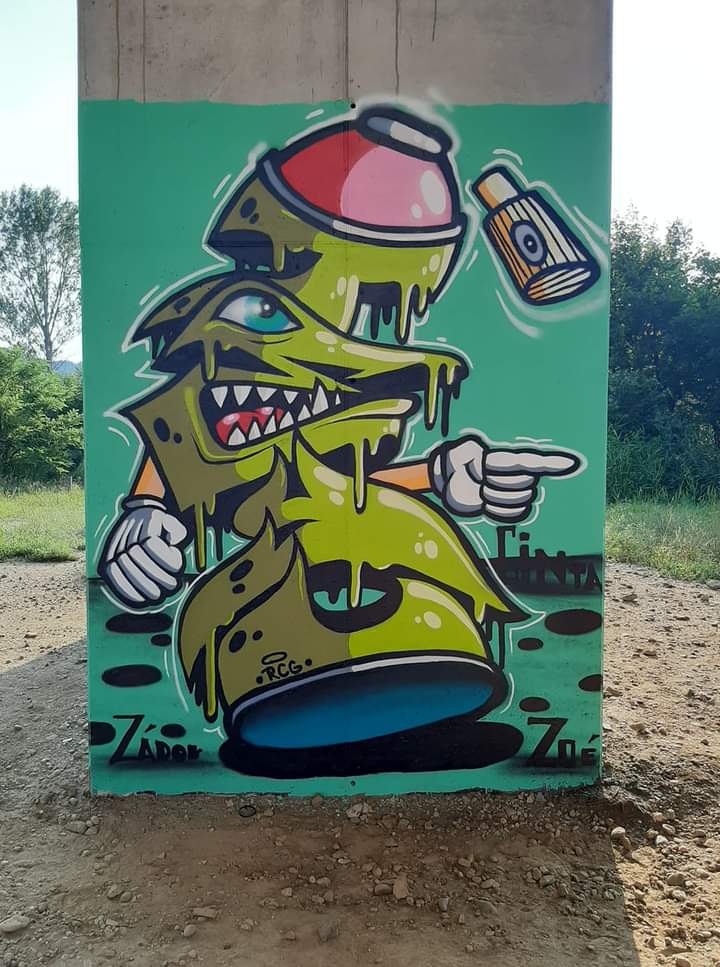 Was there a part of your life that made you feel like giving up graffiti?
There have been several times like this in my life and I put it down. I have missed years. Here I am thinking about personal life and work problems, but there were times when I just couldn't keep up and got into a bit of a creative crisis. But something always pulled me back. It's something like your favorite book. You've already read it a thousand times, but you still pick it up because you love it. Sometimes you pick it up years later and read it again because you are attached to it. There were many stations in my life that made me say that it's over, I'm going to stop. But it just doesn't work, some inexplicable force keeps whispering in my ear that it's you. When I didn't draw with a can for years, I still drew. It was only good for me that I stopped from time to time, because afterwards I could always come up with new and bomb ideas.
What would have happened if you didn't grab a can at the time? What would you do?
That's a good question. Maybe I'd be a drug dealer who also runs girls. Hahaha. Joking aside, the profession my parents intended for me was out of the question. They wanted me to be a carpenter because of the dexterity. I started doing school, but then I stopped. I quickly realized that it was not my field. I don't know if it wasn't for graffiti, but the love of drawing would still have remained. I might make my own comic someday.
What do you think about graffiti?
It's getting better and better as I see it. My beloved's daughter put it like this when she was 10, I loved it. "Graffiti is graffiti like grass, it grows everywhere except under the walnut tree" That's pretty much what I think too. I consider it one of the most colorful sports, if I can call it that. And it's really everywhere in the world. It's rough how it has evolved from the beginning to the present day. He brings new styles with him to this day. I like that it's so diverse. There are those who think it is out of fashion and only challenges teenagers. I, on the other hand, respect those Old School faces who are still active because they gave up their lives for this. See Seen. You can't get old enough for that, I don't think it depends on age. If someone does it out of fashion, it's better not to start. This is not a fashion show, but a feeling of life that creates a sense of freedom in a person that lasts forever. Development is also necessary so that as many people as possible recognize it as an art form.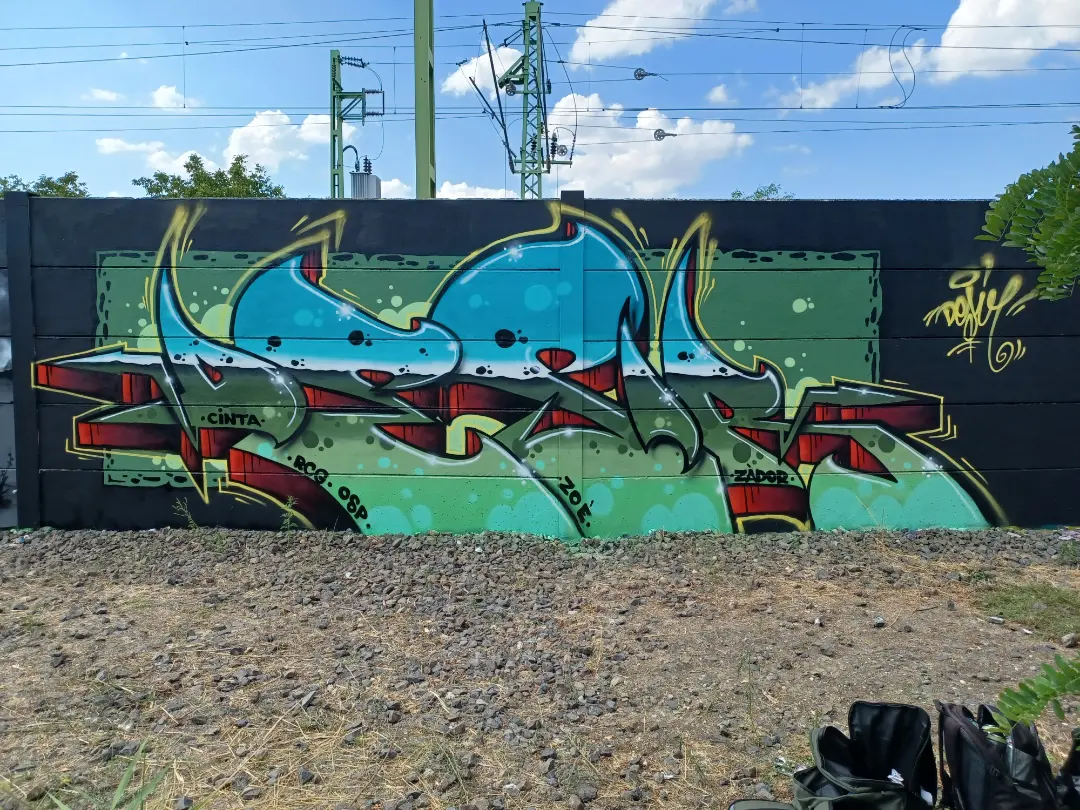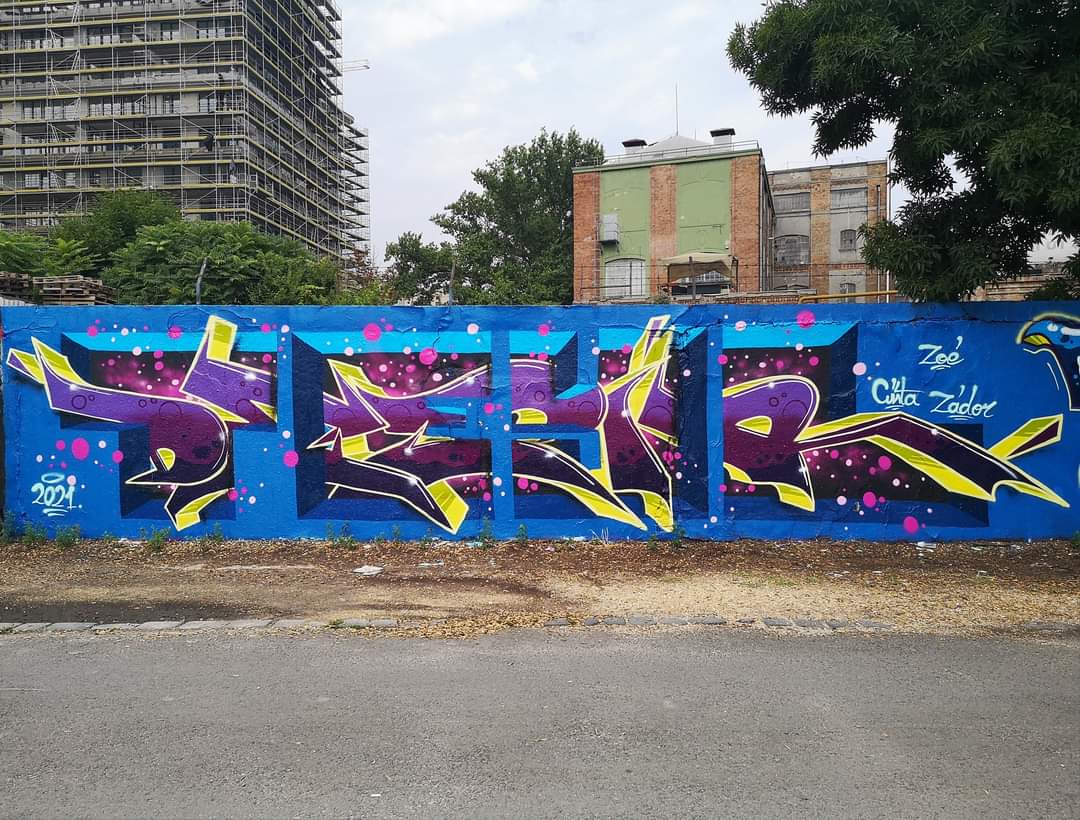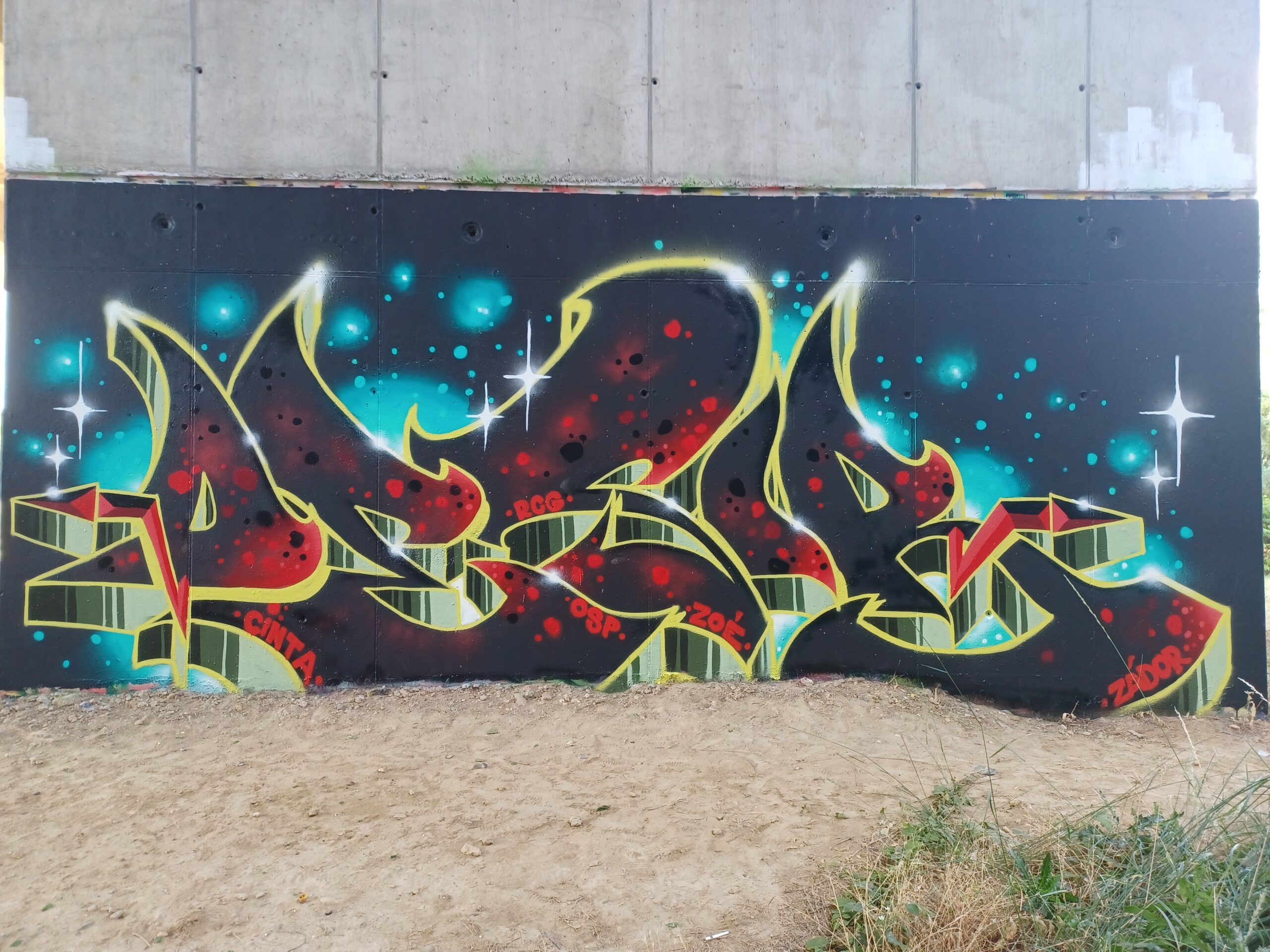 How do you see the current situation of the subculture here in Hungary?
There are very good movements in Hungary. Although now due to the covid situation, there were fewer or no graffiti events. I miss them too. If everything is true, there will be a Meeting Of Styles again this year. Graffiti has also changed a lot at the domestic level. I'm starting to feel the way I used to again, that quality drawings are coming back. There are also beginners who are already painting things that make me blink. The All Caps shop opened in Budapest a few years ago. There are guys behind the shop who do a lot for culture. They are very direct and helpful to anyone they see who takes the culture seriously, and they are active and prone to development. They organize very good events and exhibitions, and the Hungarian MOS is also thanks to them.
A complex team, who are themselves representatives of the genre. They produce high-quality and demanding work. I say all this because they can be an example for the younger generation because of their work. This kind of guidance that points upwards is needed. Average citizens are also becoming more accepting, but the West is still the favorite in this field. Of course, there are weaker styles, but if someone takes it seriously, they will start to develop in some way. My group mate NEMK is the best example of this, because it has developed enormously in the last 3 years. It's amazing how sophisticated her style has become.
For the most part, they've all been very memorable so far. The Meeting Of Styles was one of my international event experiences where I painted together with legendary and professional graffiti faces. More and more professional creators came from all over the world. I participated in this event twice, once in 2017 and 2019. I was selected for the 2017 event through a competition, where I was among the 5 people who could paint at the event. In the jury there was also CAN2 old respect. ? The organizers have already invited me to the 2019 MOS, it was a great honor. My group mate INTEX was also invited here, with whom we painted a great joint concept. It was nice to see people whose work I recognize and love live.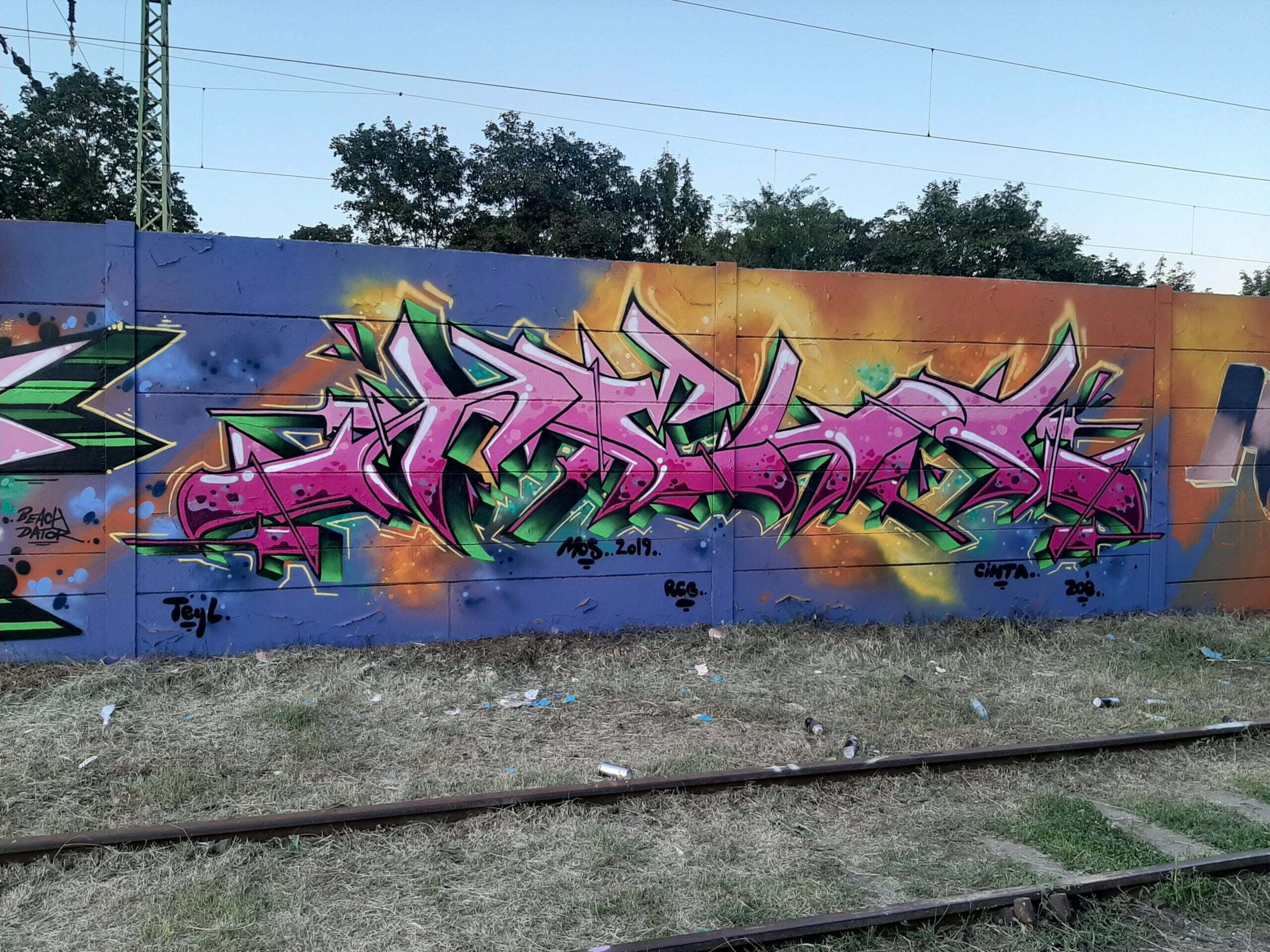 Such an event is an excellent way to build relationships with both foreigners and the domestic sphere. It will remain a party and an eternal experience for me at the same time. But my 30th birthday was also memorable. We were jamming in an abandoned tunnel in the middle of the forest, while grilling with friends. With the crew, however, almost every painting is a perfect memory. Just to highlight the giant wall Ozora, where the whole crew was present. We did it for 3 days while we slept there, so in the evenings we had bands, parties, and painted during the day. We were like a family. "Because it's not a crew, it's a family"
What has this subculture given you over the years?
It gave me a lot of experience and a lot of knowledge. I met very good people from whom I can only learn. It also gave an extremely good self-knowledge. I learned to be myself. He brought up purposefulness and aspiration.
What would you say to those who are just getting to know the genre?
First, try to practice and develop in legal places. It really bothers my eyes when I see a terribly poor quality drawing by a person everywhere in the city. If you try out in legal places and develop your style first, and then start painting illegally, you will surely experience greater success. And of course more people will admit it. Some people want to be famous right away with little routine, I don't think this is such a good attitude. Not to mention that if someone educates himself, sooner or later it will bear fruit. Development is necessary, without it you are lost.
Who would you like to thank?
To my mother and Prak in the afterlife because they believed in me. If it weren't for them, I might not be doing graffiti. To all the people who have helped me a little during my life to be as skilled as possible. To everyone in my group, because they make themselves available when needed. Yo RCG Graff. However, the biggest thanks go to my family for their constant support since I was a child. Also to my little family Cinta, Zoé and my little son Zádor, because he's a cutie.